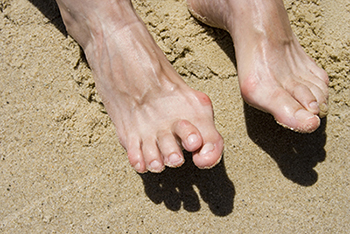 Hammertoes are painful deformities that frequently form on the second, third, or fourth toe. The condition is often caused by an issue in foot mechanics: the person's particular gait or the manner in which they walk, or shoes that do not comfortably fit the deformity. Hammertoes can be formed after wearing shoes that are too narrow or short for the foot or have excessively high heels. Shoes that are not properly sized will force the toes into a bent position for long periods of time, causing the muscles to shorten and toes to bend into the deformity of a hammertoe.
Hammertoe can also be caused by complications from rheumatoid arthritis, osteoarthritis, trauma to the foot, heredity, or a cerebral vascular accident. Pain and difficult mobility of the toes, deformities, calluses, and corns are all symptoms of a hammertoe.
Someone who suspects they have the symptoms of a hammertoe should consult with a physician—particularly a podiatrist. Podiatrists diagnose and treat complications of the foot and ankle. If the podiatrist discovers that the affected toes are still flexible, treatment for the hammertoe may simply involve exercise, physical therapy, and better-fitting shoes. Treatment for hammertoes typically involves controlling foot mechanics, such as walking, through the use of customized orthotics.
For more serious cases in which the toes have become inflexible and rigid, surgery may be suggested. During the operation, the toe would receive an incision to relieve pressure on the tendons. A re-alignment of the tendons may then be performed by removing small pieces of bone to straighten the toe. In some cases, the insertion of pins is needed to keep the bones in the proper position as the toe heals. The patient is usually allowed to return home on the same day as the surgery.